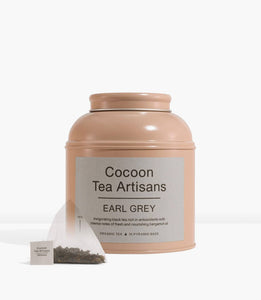 Organic invigorating black tea with intense notes of fresh and nourishing bergamot oil to drink in the morning or afternoon with or without milk.
Beneficial for additional energy and dental health. 
INGREDIENTS Organic black tea (91%), organic green tea, natural bergamot flavouring (1%)  15 x 2g = 30 g Net (Net Wt/ 1,06 oz)  BREWING  Brewing temperature: 100 degrees Celsius/ 212 degrees Fahrenheit Bring fresh, cold water to boil Then pour on freshly boiled water Brewing time: 4-6 min. STORING  Always store this high quality tea in a tin can to maintain the benefits of vitamins, minerals and antioxidants from the leaves and that the tea maintains its freshness, flavour and aroma.