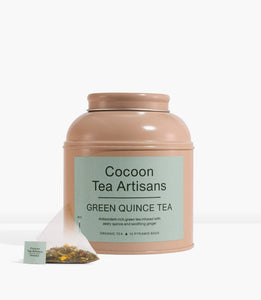 Award winning organic green tea infused with zesty quince and soothing ginger. To drink during the day - hot or cold. AWARD AA Taste Award in Japan.
INGREDIENTS Organic green tea (70%), organic apple pieces, organic ginger, organic sunflower, natural quince flavouring (1,5%), organic cornflower petals, organic quince pieces (1%).  15 x 2g = 30 g Net (Net Wt/ 1,06 oz)
BREWING Brewing temperature: 80 degrees Celsius/176 degrees Fahrenheit Bring fresh, cold water to boil Set a side approximately 1 min Then pour on the water Brewing time: 5-7 min. STORING Always store this high quality tea in a tin can to maintain the benefits of vitamins, minerals and antioxidants from the leaves and that the tea maintains its freshness, flavour and aroma.