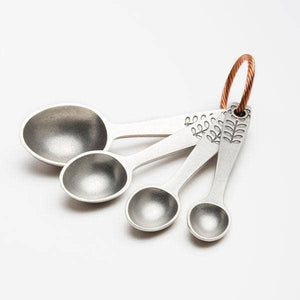 These flower-patterned measuring spoons were inspired by a love of vintage kitchenware. We hope they will add some fun, retro style to your kitchen!  Designed  to be sturdy and functional as well as beautiful.
Increments are engraved on the back of each spoon. This set includes one tablespoon, one teaspoon, 1/2 teaspoon, and 1/4 teaspoon. The largest spoon is 4.75 inches (12 cm) long.
Hand cast in  Rhode Island from lead-free pewter.