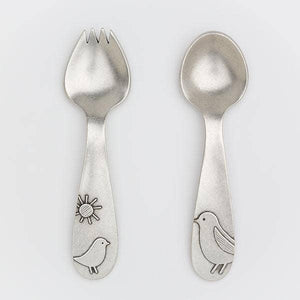 These delightful mama and baby bird spork and spoon are perfect for babies and toddlers just learning to feed themselves! The raised bird designs help little hands grip securely.
Designed  to be sturdy and functional, as well as fun and cute! Once baby has grown, they are sure to be treasured as family heirlooms and passed down to future generations.
Each utensil is approximately 4.75 inches (12 cm) long.  Hand cast in Rhode Island from lead-free pewter.