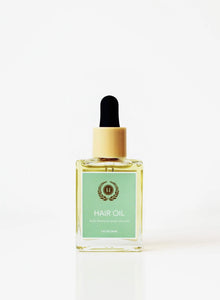 Imparts shine, tames unruly locks and defines curls while protecting against breakage, heat and sun damage. Each ingredient in this all-natural formula was selected for its reputed hair strengthening and restorative properties.

 Daily use helps to lock in color, strengthens hair from the root and treats dry ends. Leaves hair lustrous and deliciously scented with a subtle, unisex scent.

For Dry Hair: Apply from root to ends while hair is still damp and always before styling with heat. Massage into scalp and brush through to ends to leave in overnight.

For Oily Hair: Massage into scalp and brush through to ends just before shampooing.

AUSTRALIAN HERO BOTANICAL: Australian Wattle (Acacia victoriae) seed is wild-harvested and the oil is prized for its powerful healing, skin nourishing and hair growth benefits.

OTHER INGREDIENTS: Grapeseed oil, Coconut oil, Avocado oil, Amla oil, Argan oil, Jojoba oil, Castor oil. Fragranced with 100% natural Cedarwood Mandarin Red, and Lavender essential oils.

HEALES ADVICE: Apply a few drops and brush through hair nightly with a firm, natural bristle hairbrush to stimulate the scalp and bolster hair strength.